Want to buy a premium electric motorcycle and pay with your cryptocurrencies? It is now possible thanks to the integration of Bit2Me Commerce in Velca, the leading brand selling electric motorcycles in Spain.
After signing a collaboration agreement in 2022, both companies have launched the Bit2Me Commerce payment gateway in Velca's online store, where you can currently purchase mopeds, motorcycles, e-bikes and accessories such as helmets, gloves or jackets, so that the experience on two wheels is complete.
In this sense, Velca is a truly innovative business in the field of electric vehicles that offers truly innovative features and has been selected by Forbes as one of the 21 leading companies of change in Spain.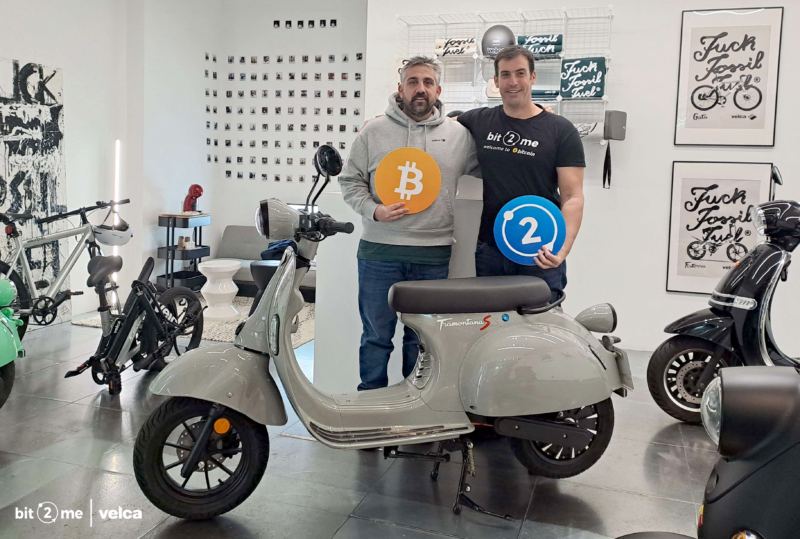 As an example of innovation, it is worth mentioning that its electric scooters can be charged like a cell phone because, in addition to running on electricity, they incorporate removable batteries that can be charged in any type of domestic socket.
In addition, Velca is the most followed Spanish brand of electric vehicles on Instagram. In their first ten months they sold more than 250 electric motorcycles. They currently have more than 15 official points of sale throughout Spain and more than 200 associated workshops.
Through Commerce, Bit2Me makes available to all types of businesses a product that allows them to operate worldwide, reduce costs, reach new markets and offer their customers a new secure payment method, relying on the most reliable cryptocurrency processing methods. Bit2Me Commerce already closed in December 2022 to its first major customer with Telefónica's Tu.com platform, who already allows payment with cryptocurrencies for the purchase of its devices and accessories through Commerce. In addition, law firms of the likes of Sánchez Butrón and other sectors have also joined.
Bit2Me Commerce recently became a plugin for OpenCart, the largest e-commerce plugin provider, and had previously signed up with Shopify.