After taking the leap into the metaverse and NFTs through Token Hunt with OVR, we have contacted the team of one of the pioneering and most relevant companies of the moment, Enjin, to ask them some questions and help our community to become familiar with their ecosystem. This is what their communications manager, Bryana Kortendick, has to say about this project.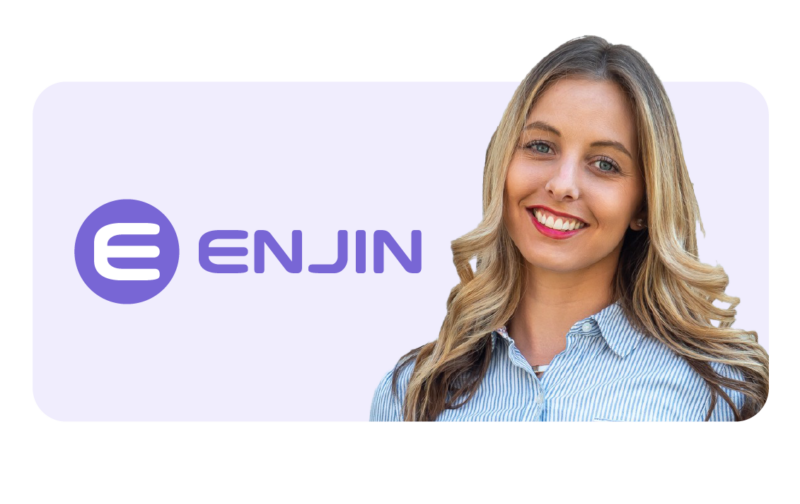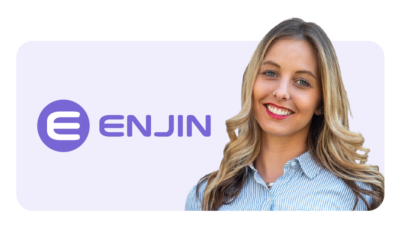 What is Enjin's history?
Enjin was founded in 2009 as a platform for gamers to create community websites for their clans, guilds, and Minecraft servers—without having to hire a developer. Over the course of a decade, this product (the Enjin Network) grew to 20 million users and was used to process millions of dollars in donations for gamers and give perks to their members. Similarly, we saw the opportunity to give developers new tools to gamify and add real economies to their games using blockchain and NFTs. It was a natural evolution of our business.
How did Enjin get involved in NFTs?
Enjin really helped kickstart the NFT movement on Ethereum. In 2017, we hosted and ICO for Enjin Coin (ENJ) and began building a product ecosystem for developers and businesses to integrate NFTs into games and apps.
Like the Enjin Network, we wanted our blockchain products to be usable by anyone, without technical knowledge or blockchain experience. We take care of the blockchain infrastructure and tech stack, so developers can focus on building their game without needing to do any blockchain coding.
In 2018, our CTO Witek Radomski authored ERC-1155, an advanced Ethereum token standard that allows developers to deploy both fungible and non-fungible tokens in a single smart contract. ERC-1155 was born from the growing need for a more efficient standard to govern the evolved token types and economies of blockchain games and dApps. Today, it's widely used and adopted by major marketplaces like OpenSea, as well as leading brands like Microsoft and Adidas.
Since then, we've launched an entire NFT product ecosystem that has been adopted by hundreds of brands, games, and projects, such as Binance, Microsoft, Atari, and Samsung. To date, over 1.2 billion blockchain assets have been created with ENJ.
Looking ahead, our goal is to make it easy for anyone and everyone to interact with NFTs.
What makes Enjin different from other NFT/P2E/platform competitors?
One unique aspect of our platform is our token infusion model: Every NFT minted with the Enjin Platform contains ENJ, which gives them real-world value. This ENJ can be retrieved anytime through "melting," which effectively destroys the NFT and returns the ENJ right to your wallet.
We provide everything you need to mint, integrate, trade, distribute, and manage NFTs:
A platform for minting via a web interface

SDKs, API, and plugins for integrating with games, apps, and other software

A wallet for sending and storing NFTs, and connecting to blockchain games

A marketplace for securely trading NFTs (with a new marketplace, NFT.io, coming soon)

Beam for mass-distributing NFTs via QR codes

Networks for scaling:

JumpNet, a gas-free blockchain

Efinity

, a Polkadot parachain purpose-built for NFTs and the Metaverse
Could you briefly explain Enjin's upcoming roadmap events?
2022 is arguably the most significant year yet for Enjin, as the final pieces of our ecosystem puzzle are falling into place.
NFT.io: Next-generation NFT marketplace launching in Q2.

Enjin Wallet 2.0: Brand new version of the Enjin Wallet app for crypto, NFTs, and DeFi. This will be released in Q2 and feature a variety of new features and integrations.
Efinity: Our parachain for NFTs, which recently

launched on Polkadot

in March and will continue to be upgraded with new features—more on this below!

Beam: First-of-its-kind QR service that allows you to distribute thousands of NFTs via a QR code.
We'll be updating our roadmap each month, which you can view at enjin.io/roadmap.
What is Efinity?
Efinity is a Polkadot parachain purpose-built for NFTs. It's designed to serve as a cross-chain highway and be the infrastructure for the decentralized Metaverse.
It's built on Polkadot, which enables a variety of powerful new NFT features, flexibility, scalability, and cross-chain interoperability that aren't possible on general-purpose networks like Ethereum. It also benefits from the security, decentralization, and efficiency of the Polkadot network.
Right now, blockchains and NFT platforms are fragmented and all speak a different language (not to mention issues like congestion and sky-high gas fees on legacy networks like Ethereum.) Efinity is meant to connect them all and help them communicate with one another. It will support NFTs from any blockchain.
Efinity is fast, cheap, and eco-friendly—which is a concern of many NFT skeptics—and includes features that will significantly lower the barrier to entry to NFTs. Right now, the process for getting involved in NFTs can be complicated and expensive for everyday / non-crypto users, and the same goes for blockchain games.
Features like "discrete accounts" will allow players to jump right in and start playing blockchain games without a crypto wallet. It's like a "Cloud" wallet that can be claimed at a later time by the player. Similarly, "Fuel Tanks" will allow developers to subsidize and cover transaction costs for their users, so players don't need to worry about paying transaction fees.
What are Enjin's latest partnerships and use cases?
Our NFT infrastructure supports a wide range of businesses, creators, and developers, from Microsoft's Azure Heroes program and CoinMarketCap diamond rewards, to Lost Relics, an action-adventure RPG with over 130,000 users on the waitlist.venture RPG with over 130,000 users on the waitlist.
Some recent announcements include:
We also recently launched a podcast called The Enjin Room to highlight builders and thought leaders in Web3 — you can check out previous episodes here
How can one mint custom NFTs?
You can jump right on to the Enjin Platform and begin minting NFTs for free via our web interface.
How does the Enjin Wallet work?
The Enjin Wallet is a crypto/NFT app available for Android and iOS. It's been downloaded over 2.3M times, and now it's getting a major upgrade.
As I mentioned earlier, we are completely redesigning the app for version 2.0, which will be releasing in Q2. It will feature a variety of new NFT and DeFi features and integrations (e.g., 1inch and PancakeSwap), as well as new supported tokens and blockchains (e.g., Polygon, Cosmos, BSC, Flow).
In the future, Enjin Wallet will also be integrated with Efinity, so you will be able to directly stake ENJ to nominate Efinity collator nodes in the app, and you'll earn Efinity Token (EFI) rewards in return.
The Enjin Wallet is directly integrated with Beam (our QR service), so you can instantly receive NFTs by scanning a QR code. In fact, you can visit our website at enjin.io right now to scan and claim a free NFT with the Enjin Wallet!