What is DEX
Bit2Me DEX is a third generation, decentralized and professional exchange, especially dedicated to the trading of digital assets, specifically for the token trade of the Ethereum network.
It was born as a result of Bit2Me's commitment to develop solutions based on public blockchains, we want to contribute to the profound revolution suffered by money and financial markets.
DEX is a platform that is prepared for wallet to wallet trading of both utility tokens as well as security tokens.
No hidden fees or commissions
In the decentralized Bit2Me market, users performing operations will not be charged with commissions.
The use of this platform is completely free, any participant can trade tokens in real time, without paying a single cent to operate within Bit2Me DEX.
Start-up and configuration
To start trading in DEX you don't need an account, nor to sign up or provide identity validation. You just need to connect your wallet and start placing orders. You can connect a desktop wallet such as Metamask or a hardware wallet like the popular Ledger.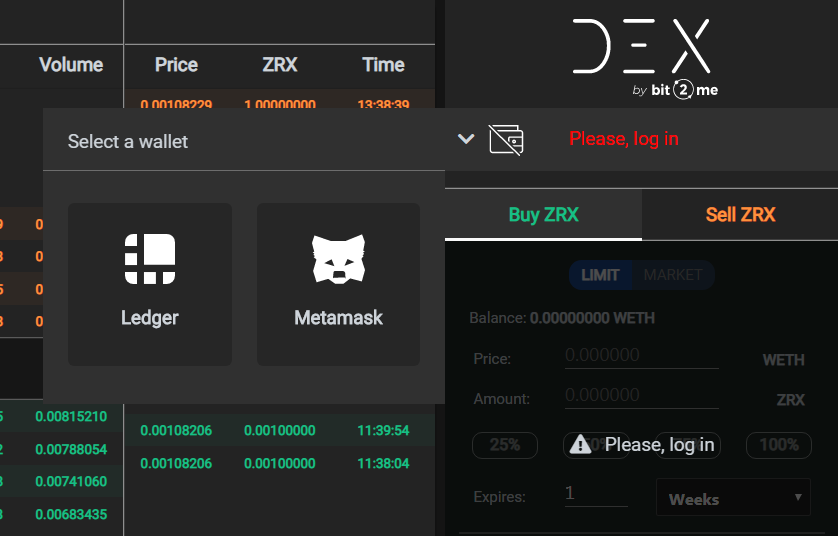 DEX includes two very useful support tools for the correct set up of your wallet and to familiarize yourself with all the elements of the platform, those are:
Initial Configuration Guide 
Interactive tour through all the elements of the interface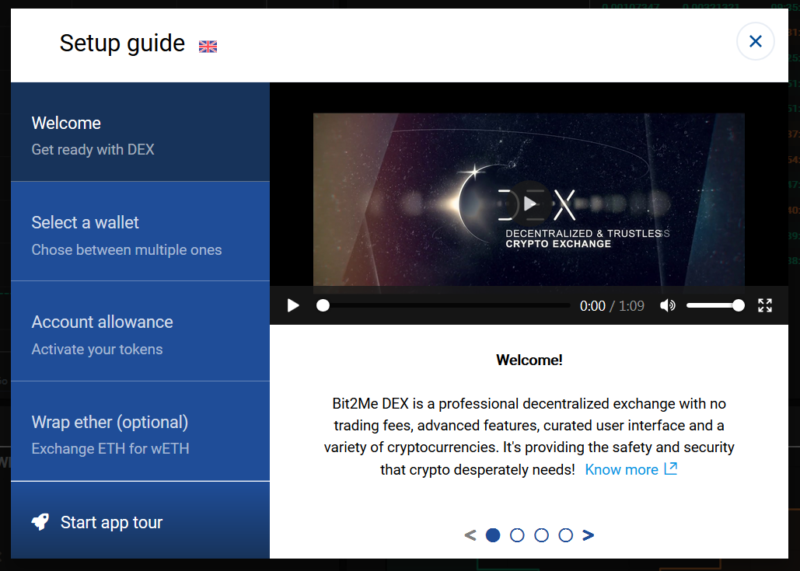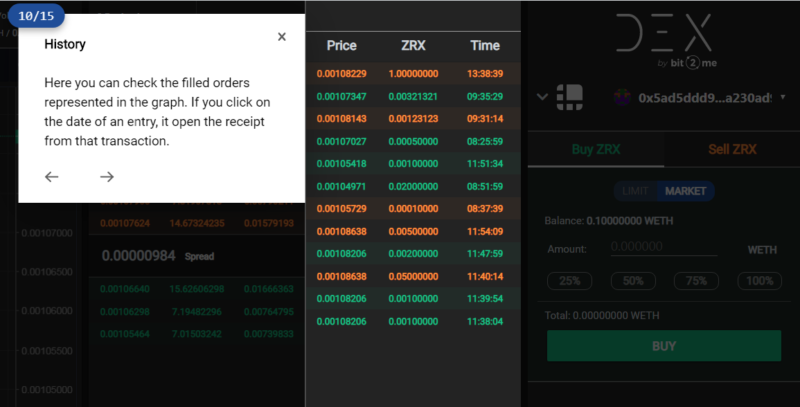 You never lose ownership of tokens
Bit2MeDEX is anti-hacking ready, due to the use of a protocol through which a user can trade without losing control or custody of their funds at any time.
The most important thing we want you to know is that trading is done directly from wallet to wallet, therefore traders tokens are not at risk at any time.
Until the appearance of these technologies in the last 3 years, the usual way has always been to send the tokens to an address owned by an exchange in order to trade, and at the end of your operations, you had to request the withdrawal of your funds to an address of your property.
However, today, thanks to this advancement in technology, we can create a market where deposits are no longer necessary before trading, or subsequent withdrawals.
Select from which address you want to trade 
When you connect your Ledger wallet, a menu will appear to choose the address from which you want to trade. Once selected, you can change it in the drop-down menu in the login area where you will be shown all the addresses associated with your Ledger so that you can choose the address from which you are going to trade your tokens.
If you have connected from your Metamask wallet, this selection is made directly in Metamask.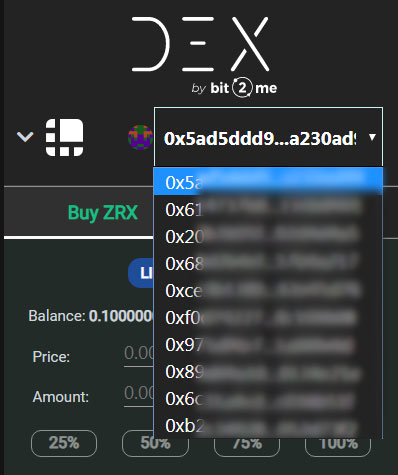 Atomic Swaps, magical exchanges
The performance of wallet to wallet operations is possible since the open 0x protocol allows us to perform a type of exchange called Atomic Swap (atomic exchange).
With Atomic Swap technology, the exchange of tokens between wallets is executed at once and at the same time. This exchange takes place at the precise moment that a purchase or sale order is completed, and there is no possibility that one of the parties will be left without receiving their coins, nor the need to rely on a third party for this to be executed.
The same protocol that allows this provision, prevents the manipulation of the volumes that move within the exchange, so Bit2Me DEX in addition to being a secure platform, is transparent.
Integration with fiat money
We implemented a special housebrand integration to Bit2Me DEX so you can deposit traditional fiat money.
You may use cash to buy Ethers (ETH) thanks to our Tikebit coupons. These coupons can be purchased in more than 150 official points that we have throughout Spain and subsequently redeemed within Bit2Me DEX.
If you click on the button indicated, a window will open where you can redeem the total amount of your Tikebit coupon.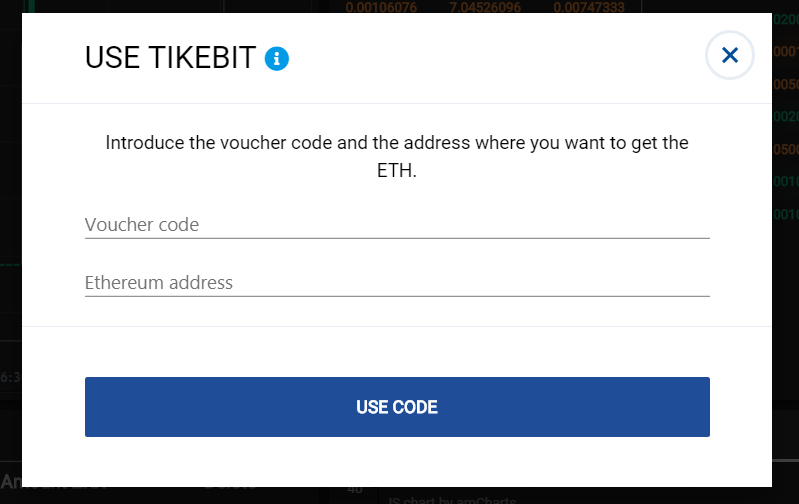 Console and Interface
Regarding the interface, we have integrated TradingView, a tool widely used among crypto traders to create and explore graphs in real time. It also incorporates an important list of functionalities for professional analysis and prediction of asset price trends.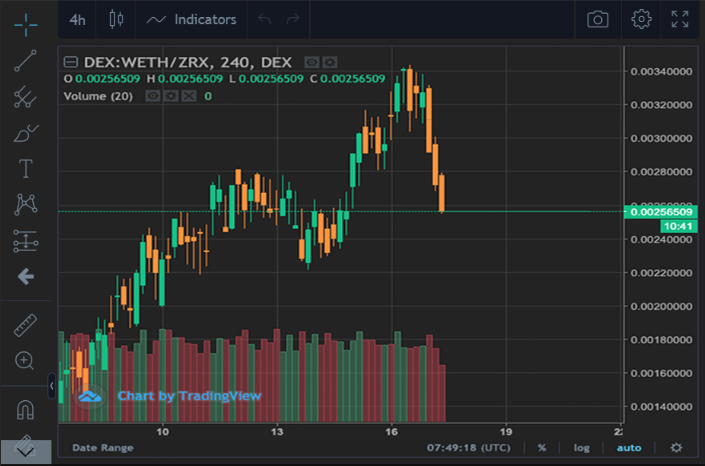 In the operations console the purchase and sale orders can be placed in two types: Limit and Market.
When you put a Limit-type transaction, it goes to the order book waiting for someone to buy or sell the position you marked. You should know that for this type of operations you can specify an expiration time, after which it will be automatically canceled.
100% Responsive
Last but not least: the platform is 100% responsive. This means that Bit2Me DEX can be used on mobile phones and tablets without the need to install an app for it.
Start trading in Bit2Me DEX
We are ready. We have developed Bit2Me DEX thinking about the comfort of veteran traders but also wanted to show love to the new and intrepid crypto lovers who are starting to trade with tokens. This is only the beginning, in the next versions we will incorporate all the improvements that we detect both within the team and by the feedback of the users.
[/fusion_text]
About the security of the 0x protocol
The protocol used is called 0x, and is developed by 0x Project.
The protocol is public and all its code is audited * by the company ConsenSys, a pioneer in developing solutions based on the Ethereum network. ConsenSys was founded by the Canadian Joseph Lubin, one of the co-founders of Ethereum along with Vitalik Buterin.
* Audit of ConsenSys on 0x protocol
Post for mortals common
https://media.consensys.net/auditing-the-0x-protocol-v2-with-consensys-diligence-a52995407730
Full report, special for interested and technical staff
https://github.com/ConsenSys/0x_audit_report_2018-07-23
Summary and description of the 0x contract system
https://github.com/ConsenSys/0x-review/blob/master/report/2_system_overview.md