Bit2Me Pro adds GLMR/EUR, MOVR/EUR, MKR/EUR, KSM/EUR and APT/EUR pairs to its professional trading service.
With these new trading pairs, you can now trade professionally with the lowest spread on almost 30 different cryptocurrency pairs on Bit2Me Pro.
Bit2Me Pro is the first professional trading platform created by a Spanish exchange. It is aimed at professional investors, institutions and traders who want to trade with high liquidity and enjoy a minimum spread.
5 new pairs available in Bit2Me Pro!
These are the new trading pairs we have added to Bit2Me Pro:
GLMR/EUR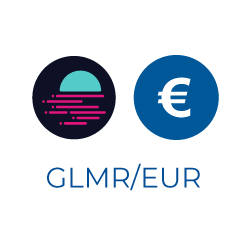 GLMR is the native token of Moonbeam, a project built on top of Polkadot's Substrate framework and with Ethereum compatibility. It is a project that aims to allow Ethereum developers to bring their applications to Polkadot without having to touch their code.  
It is a highly specialized Layer 1 blockchain with the ability to manage smart contracts and interoperability with other blockchains. It is capable of mirroring Ethereum's RCP, as well as its accounts, keys, subscriptions, registrations and more. 
With the GLMR/EUR pair you can buy and sell GLMR for euros.
MOVR/EUR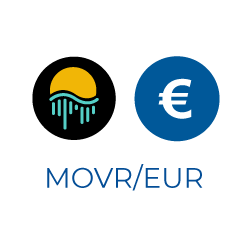 MOVR is the token of Moonriver, another project developed on top of Polkadot's Substrate infrastructure. It is a very similar project to the previous one, only, instead of offering compatibility between Ethereum and Polkadot, it does so with Kusama, the DOT testnet.
Moonriver wants Ethereum developers to be able to deploy their applications on top of Kusama easily, thanks to an interoperability system. MOVR, the native token, plays a central role in the maintenance and operation of the network.
MOVR serves to pay transaction fees, support the execution of smart contracts, incentivize block validation of nodes and facilitate a decentralized governance mechanism.
With the MOVR/EUR pair you can buy and sell MOVR for euros.
MKR/EUR

MKR is an ERC-20 token native to MakerDAO, a protocol focused on centralized finance based on stable currencies. MakerDAO allows users to leverage assets to generate DAI, a stablecoin created by Maker.
MKR is a governance token, which allows holders to vote on decisions and development of the MakerDAO protocol, as well as on any proposals affecting the development of DAI. 
With the MKR/EUR pair you can buy and sell MKR for euros.
KSM/EUR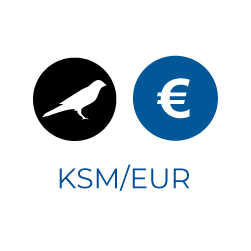 KSM is the native token of Kusama, the Polkadot testnet. Test networks or testnets are blockchains where developers can test their applications, before launching them on the main blockchain, in this case Polkadot.
This way, if when deploying an update or an application, something malfunctions on Kusama, it will also malfunction on Polkadot. This allows developers to implement solutions and improvements.
With the KSM/EUR pair you can buy and sell KSM for euros.
APT/EUR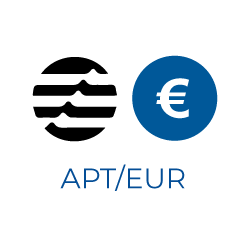 Aptos is a Layer 1 blockchain, which uses the Move programming language and the Move Virtual Machine. This programming language and the VMM have been inherited from the initial developments of Libra and Diem, Facebook's cryptocurrency projects.
It is a blockchain designed for scalability, security and trust. The main feature of this blockchain is that it offers a number of innovations in terms of smart contract design, system security, performance and new consensus features.
With the APT/EUR pair you can buy and sell APT for euros.
What can you do with Bit2Me Pro advanced tools?
7 chart types with price history.

Candlesticks with 7 timeframes.

A more intuitive and easy to use interface.

Ability to zoom and navigate the chart.

Filters by history of purchases or sales.

Filters by time bands.

Customize the design of your chart.

Customize the size of your chart.
Why use Bit2Me Pro?
Don't forget that from Bit2Me Pro you can trade professionally, with a minimum spread on your trades, enjoy configurable panels with more than 100 technical analysis indicators and statistics of the last 24 hours, all within a robust, high-frequency and highly liquid platform.
https://www.youtube.com/watch?v=xEoNg9EnsHo&feature=emb_title 
On our way to offer continuous improvements that meet the needs of our community, we have recently added the possibility to use the B2M token to get discounts on all Bit2Me Pro trades. 
We have also improved the pair selector, offering an enhanced tool that makes it quicker and easier for any user, regardless of their experience, to select the pair they wish to trade.
Bit2Me Pro is fully integrated within our suite, so you can login with your Bit2Me account. In case you don't have a Bit2Me account created, you can do it from here. The process will take you no more than a minute and you will be able to start trading instantly.
IMPORTANT: Remember that trading activity should be done with great caution. Cryptocurrency trading is subject to high risk, so Bit2Me is not responsible for any losses that may occur during this activity.