The term "cashback" refers to the possibility of receiving rewards when making a purchase and is now a reality in the crypto world.
Cashback offers the industry a new way to save money, something that has a positive impact on the adoption of cryptocurrencies.
Before we start, we will tell you how it works in the traditional world, so let's get started! 
What is cashback and how does it work in the traditional world?
Cashback is the result of a partnership between banks (who issue credit and debit cards) and different merchants. 
Currently, some banks reimburse their users a portion of the merchant fees  paid with their credit or debit card, and others have established rewards programmes, where depending on the type of purchase you make, the reimbursement percentage may vary.
For example: Juanita bought a plane ticket with her credit card and the financial institution X refunded her 5% for that purchase.

On the same day she bought a ticket to her favorite artist's concert and received a 2% refund. 
Now… How does crypto cashback work? 
In the case of crypto cashback, the rewards for every purchase you make will be in the form of crypto, via your phone, computer or credit/debit card. 
As you may know, the possibilities in crypto are endless, and today we would like to show you some ways on how you can benefit from them when you make a purchase. 
4 ways to receive cashback in crypto 
Debit cards:
Some crypto projects offer the possibility for users to obtain their own Visa card, so for every purchase made with this card, they will receive a % of cashback in specific cryptos, such as Bitcoin or Ethereum.
The percentage of rewards ranges from 1% to 8%, depending on the type of card the user has.
Credit card:
Some projects in the fintech industry offer a percentage of cashback in crypto depending on the category, e.g. for purchases of food, hospitality services, healthcare, etc.
Cashback App:
They can receive a small cashback percentage as a reward for making a purchase in any of the online stores that are within the Cashback App. The only condition to receive the cashback is to exceed X amount of purchase, for example $30. 
Browser extensions/wallets:
These projects generally offer a wallet that allows users to see the balance of purchases and rewards earned.
In addition, to use them you do not need to open a specific tab or download an appand the cashback % depends on the merchant with which the project has a partnership.
B2M cashback in more than 2.000 online shops
Now that you have a better context on what cashback is in the crypto industry, we are happy to announce our partnership with Polycashback, the first cashback platform for cryptocurrencies in Spain.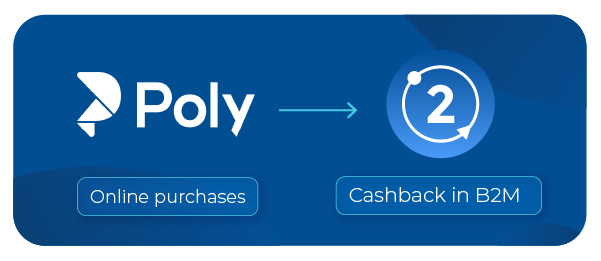 From now on, you will have access to more than 2.000 online stores associated with Polycashback, such as Nike, Adidas, El Corte Inglés, Booking, Just Eat, Vueling, Ikea, Samsung, or Logitech, where you will be able to receive cashback in the form of B2M tokens. 
Remember that you can do all of this from a single wallet, where you will see your balance whenever you want with the updated price of the B2M quoted in real time. 🤑 
How to receive B2M for online purchases with PolyCashback?
Just follow these steps:

Download the Poly Cashback App (available for Android and IOS) or install their Google Chrome extension on your computer browser.

Create your user (your name and email address will be enough).

Buy now! Get instant B2M cashback.