It has been an intense and challenging semester, in which we have been working to achieve alliances, news, participation in events and above all in the development of new B2M utilities that generate impact on our community and our holders.  So if you want to find out everything that has happened in June, keep reading this article!
Before we start with the hard data, we want to thank all the people who believe in our project and make everything we share in our monthly reports possible!
Highlights of achievements
🏆 We are already more than 77.800 B2M holders 
🏆 91.67% of Bit2Me Earn users choose to receive their rewards in B2M and there are already 1.330B B2M holders generating rewards. 
🏆 We were at events around the world giving visibility to our token.
🏆 We managed to close alliances with different partners both in the crypto and traditional sector to offer greater rewards to our holders.
🏆 We launched new and powerful B2M utilities and exclusively announced dates of upcoming launches 🥳
🏆 Created spaces to interact in real time with our community, reaching over 500 people at our last AMA.
🏆 461 people got a POAP (NFT) for their attendance to our AMA of the semester.
Now let's get down to the details:
New B2M utilities!
Last 4th of July we had the opportunity to share with more than 500 people the official dates and launches of the new B2M utilities through our AMA. If for some reason you were not able to attend, remember that the video is posted on YouTube.
B2M/USDT pair
The B2M/UDST pair is now available for you to execute:
Limit orders

Market orders

Stop-limit orders
Using B2M in Bit2Me Pro 
From 25 July you will get a 25% discount for using B2M in Bit2me pro fees.
New B2M utility in Earn 
It doesn't end here, on the 24th of July we will publish a training video where you will learn and get to know everything about the new B2M utility in Earn Stay tuned to our social networks!
B2M in figures
In June, the total B2M trading volume reached $17.22M (1.37B B2M). In addition, as of today we have a community of 77,800 B2M holders. Broken down, the token holders are divided as follows: Bit2Me: 52,147, BSC: 14,128, MATIC: 10,618, ETH:736.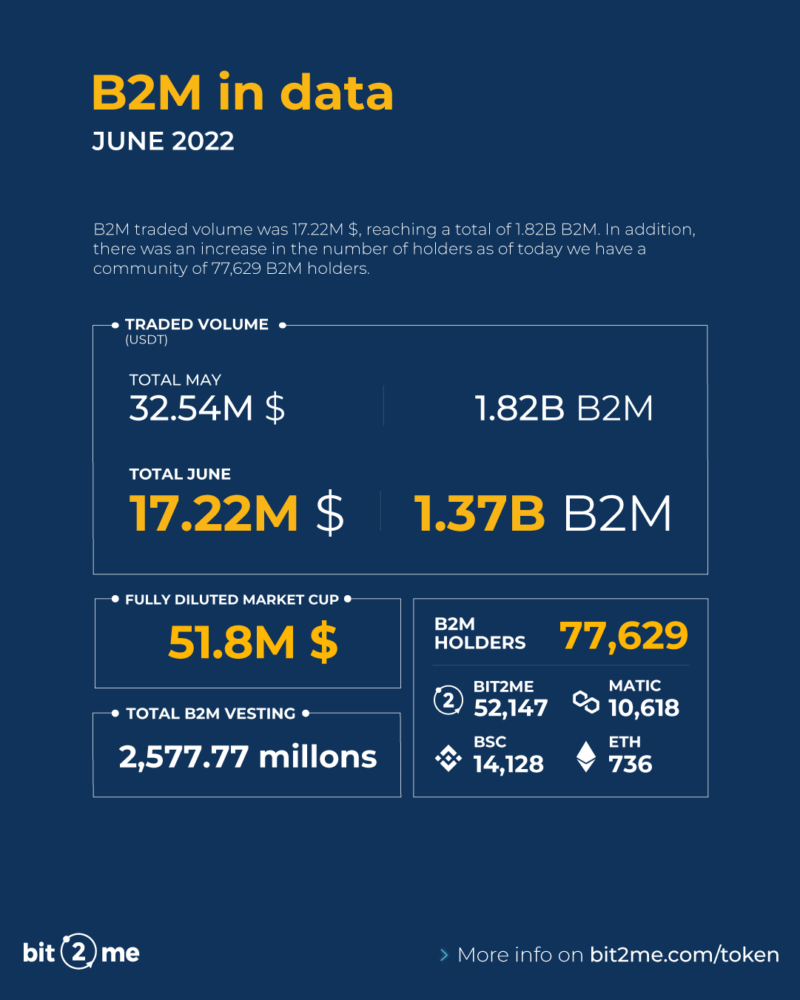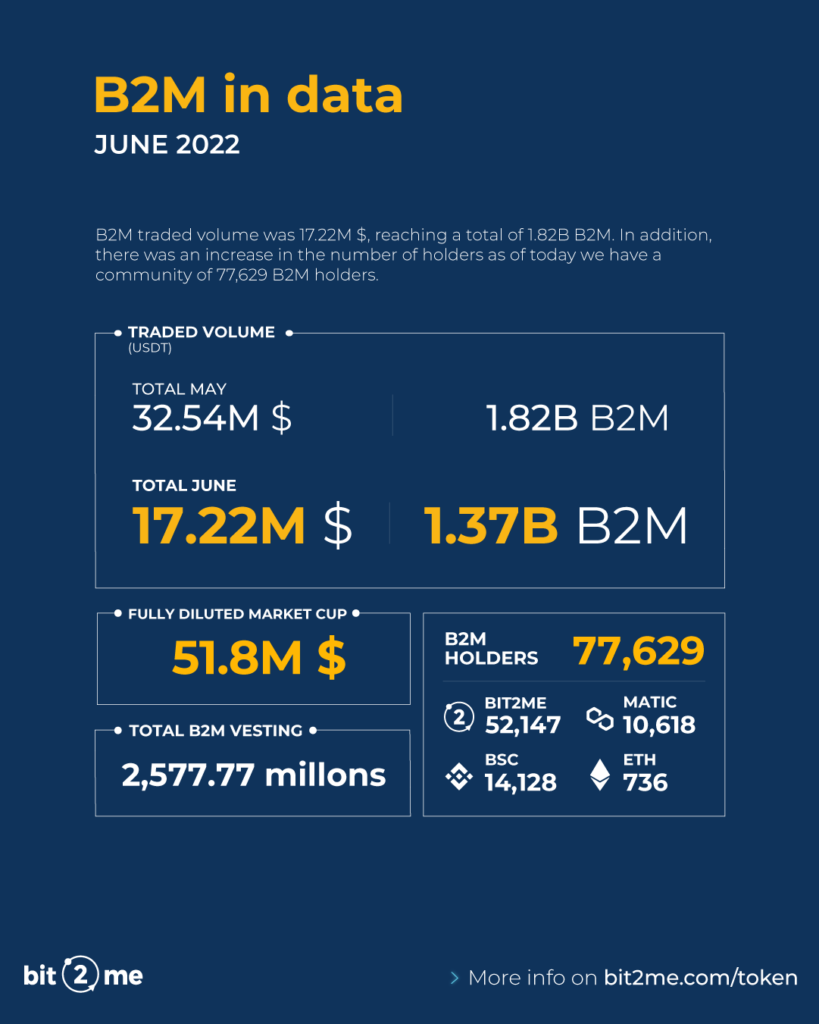 B2M on Bit2Me
Bit2Me Earn continues to be one of our holders' favourite utilities! This June 91.67% of B2Ms were added to Bit2Me Earn, i.e. 19.67% more than the previous month. In addition, 1,330B B2M are already generating rewards.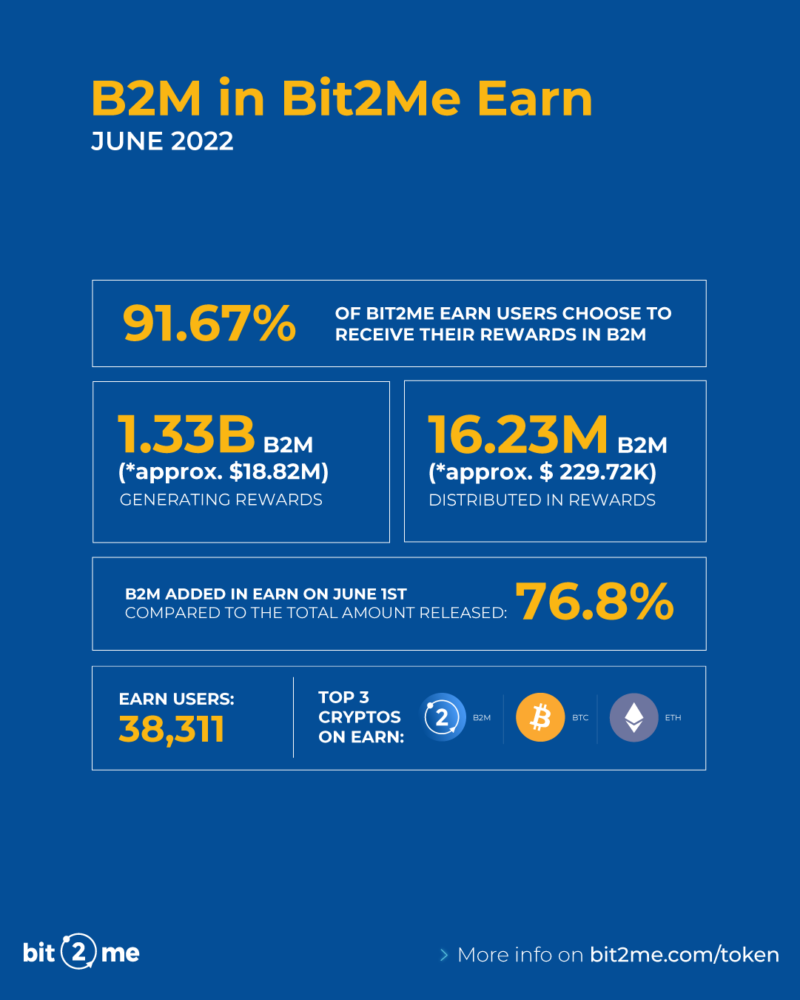 Presence at events
We had presence at events around the world giving visibility to B2M:
📍 Consensus 2022 (Austin, Texas): Abel Peña, Chief Sales Officer of Bit2Me, shared with the entire crypto and financial sector the key to strengthen the ecosystem in Web 3. In addition, Pablo Casadio, John Izaguirre, Paola Morán and Úrsula Vidal, established relationships with the most powerful companies in the crypto sector and blockchain ecosystem.
📍 South Summit (Madrid): continuing with the challenge of bringing crypto knowledge closer to society, Koh Onozawa, managing director of Bit2Me, spoke on two panels related to the world of tokenisation and cryptocurrencies.
📍 La Gran Kedada (Madrid): the origin of the CryptoTour.  In this exclusive event for our passengers, Bit2Me's challenge to spread the knowledge about the crypto sector was presented.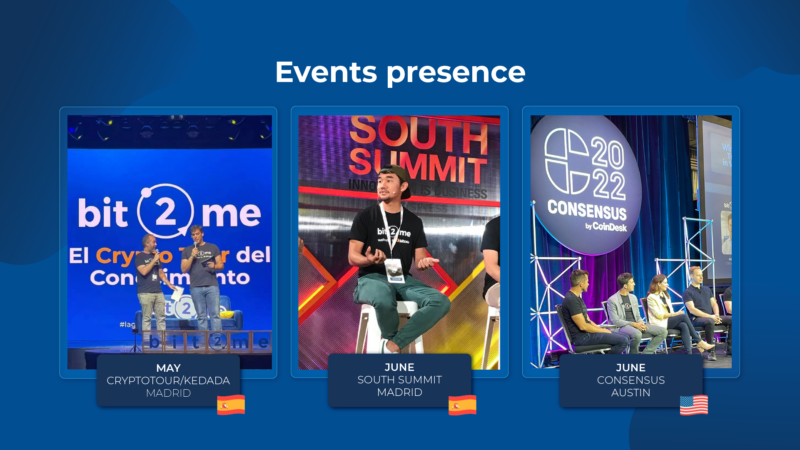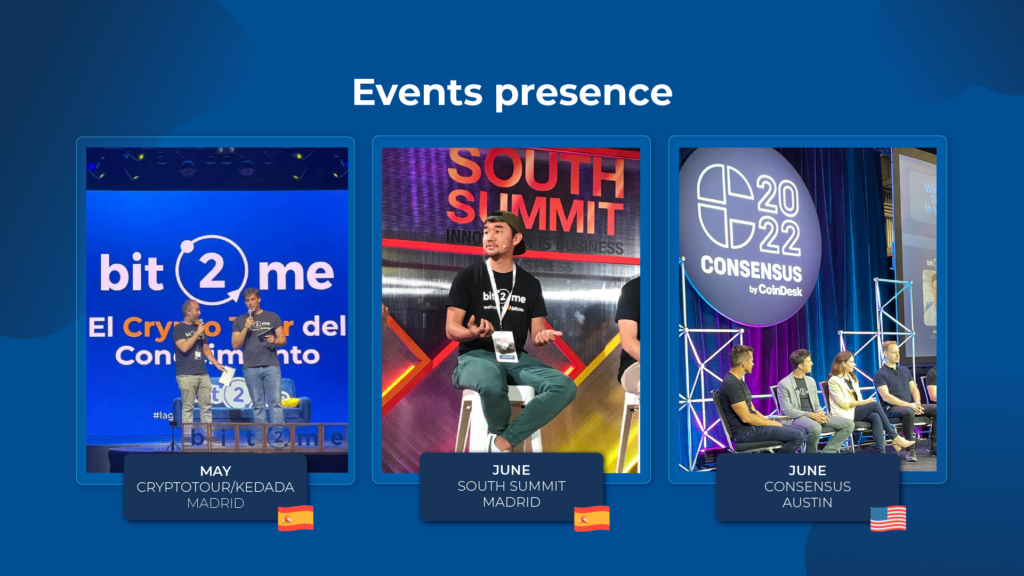 Media mentions and announcements
This month we continued to make headlines in the media, and different members of the team have been interviewed to share content related to technology, cybersecurity, financial sector revolution and market context, among others.
In addition, we have achieved organic mentions in topics related to Web3, cryptocurrencies, NFT.
Europapress: Inveready y Bit2Me lanzan un 'hub' de tecnología Web3 en Barcelona

Observatorio Blockchain  Inveready y Bit2Me lanzan un Hub para empresas Web3 en Barcelona  
Seguros News: Criptodivisas y NFT, una tecnología que cada vez más marca la actualidad del sector Fintech  
Economía de Hoy: El sector Fintech & Insurtech protagonista en South Summit Madrid 
Newtral: Cómo se crean las criptomonedas
EFE: La plataforma española Bit2Me se presenta en el mayor evento cripto del mundo 
Eldiario.es: La plataforma española Bit2Me se presenta en el mayor evento cripto del mundo 
 El Independiente: Bit2me: "Lo mejor es no usar el dinero que necesitas por ser un mercado (el de las cripto) con fuerte volatilidad" 
Finanzas.com: Bit2Me, la revolución del conocimiento financiero 
Expansión: Cómo retienen el talento los bufetes sin dar un golpe de talonario 
NFT Review Market: Crypto Alerts Noticias Criptomonedas Bit2Me y ATH21 lanzaron fondo para empleados con criptomonedas 
BeinCripto: El Sol Grupo y Bit2Me facilitarán operaciones inmobiliarias con criptomonedas en España 
 El Confidencial Digital: Ya es posible comprar viviendas en España con criptomonedas 
Newtral: Así es como la Policía va a rastrear a los criminales que utilicen criptomonedas
ABC: La alargada sombra del criptoinvierno 
 La Ecuación Digital: Bit2Me continúa con su CryptoTour parando en ETH Barcelona, el evento de la fundación Ethereum
Beincrypto: Bit2Me se suma a la conferencia ETH Barcelona 
On the other hand, we continue to close alliances and different initiatives, such as our most recent raffle of 2 Fisterra e-bikes that are committed to sustainable mobility valued at €3,200 and €4,000 in BTC.
We will continue to actively listen to our community and our holders in the different Bit2me channels, looking for rewards and partnerships that bring value to the community.  
Thank you for an amazing month B2M community and holders!