February at Bit2Me has been marked by the success of The Great Airdrop, in which more than six million users have participated, and in our monthly B2M Transparency Report, we can see some of the key data and milestones which have Bit2Me and B2M as protagonists. Let's start.
B2M Trading Volume Soars in February
One of the first conclusions that we take away from this February is the incredible increase in traded volume, which in dollar terms was 13.2 million. As for B2M, we can appreciate the effects of the Airdrop, with an increase of +312.9 million B2M compared to January and, in terms of holders, with a progressive increase, reaching 48,569 in Bit2Me alone.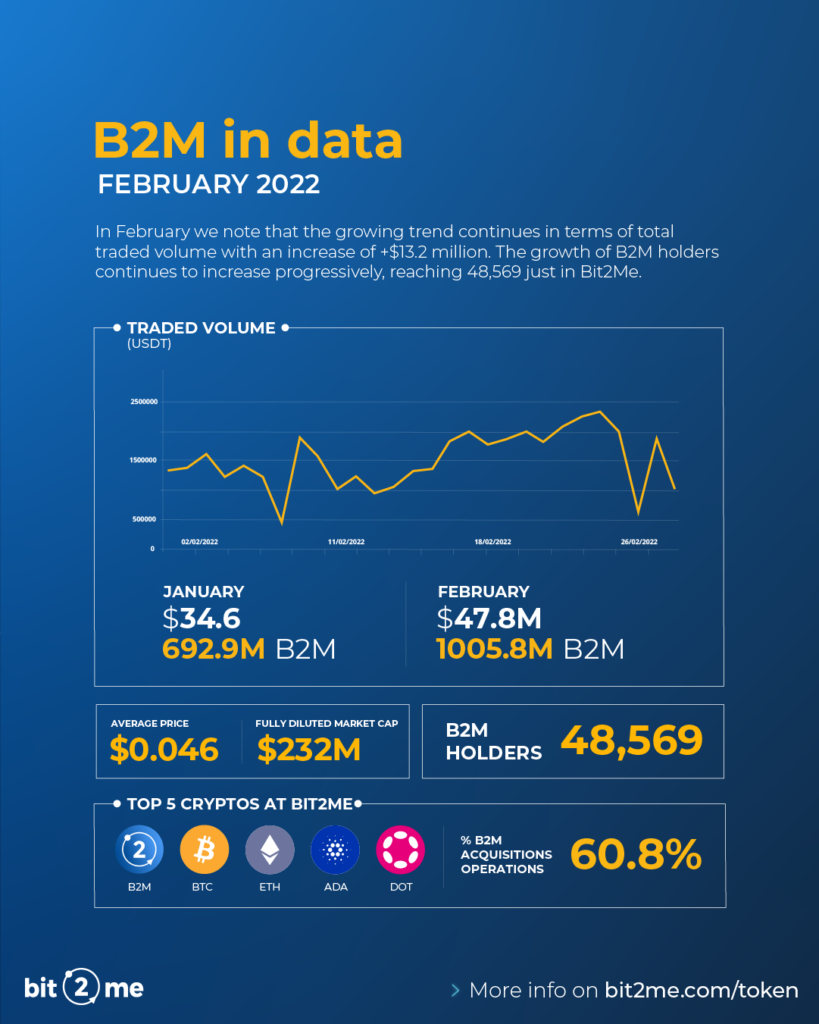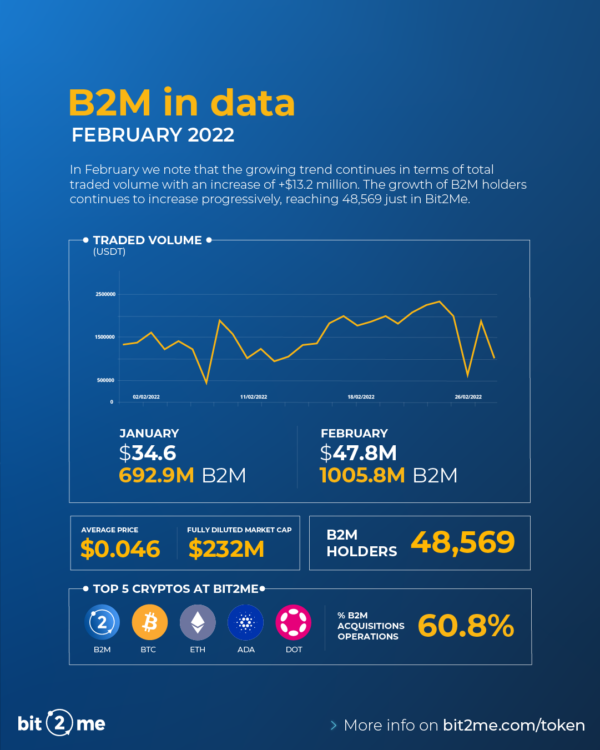 Bit2Me Earn Continues to Deliver Rewards With the Trust of Its Holders
One of the most characteristic data about this month is the trust that Bit2Me Earn users have placed in B2M, as 95.58% of all Bit2Me Earn users have decided to receive rewards on our token with which they can also get an additional 2% on their rewards. In terms of global data, there are 749.05M B2M generating rewards, which equates to an approximate value of $34.45M. In February alone, 11.5M B2M have been distributed, with an approximate value of $529K in rewards.
Finally, the number of Bit2Me Earn users increased to 32,726 (+3,347), and of all the B2M released in the February 1 vesting (166M), 67.51% were added to the Earn service to generate rewards without having to do anything else.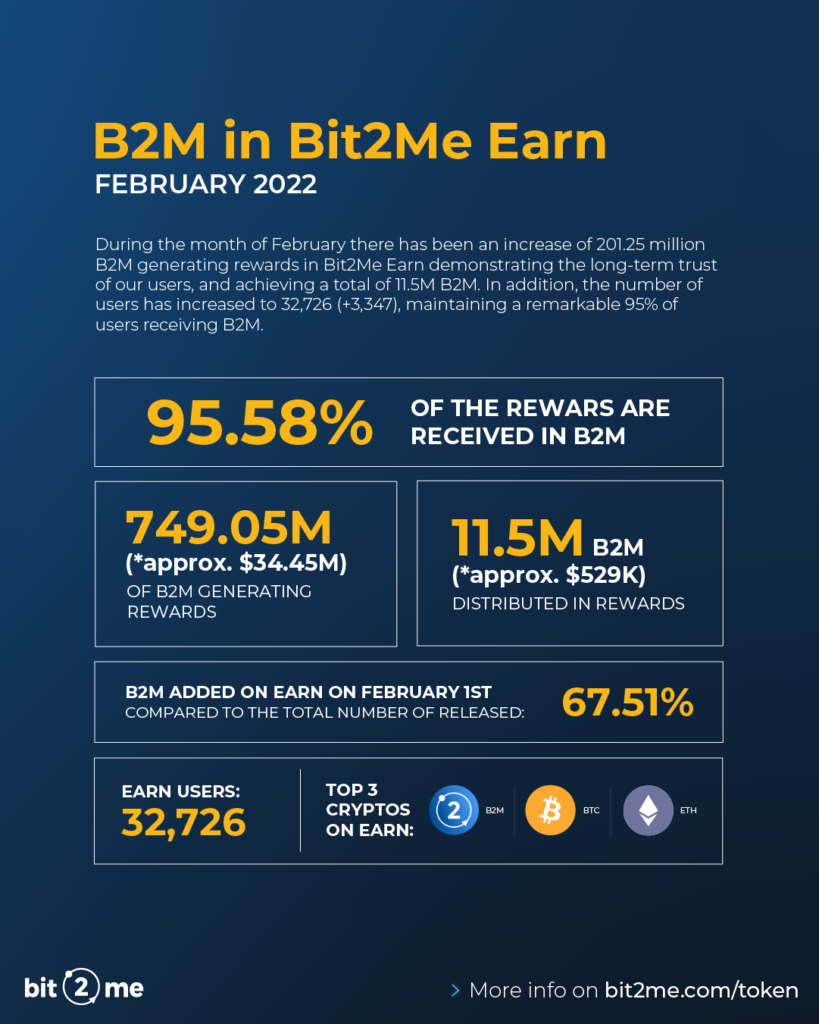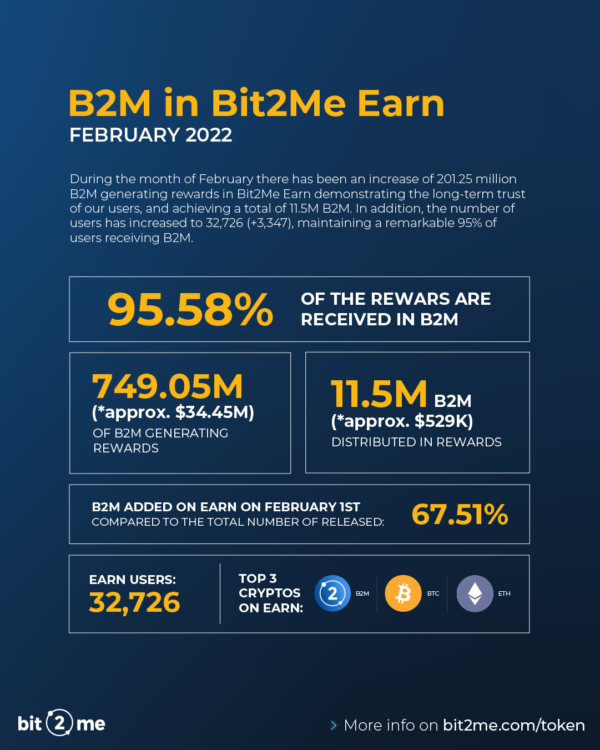 The Great B2M Airdrop
From February 10 to March 2, more than 6 million people participated in Bit2Me's Great Airdrop with CoinMarketCap to celebrate its partnership with Polygon. In total, 8 million B2M were available to users, and the results were spectacular. In Bit2Me's main social networks, the increase centered on Twitter and Telegram. On Twitter, the community grew by +150,000 users (185,000 total), and on Telegram by +128,000 (139,000 total). On YouTube, our community also grew considerably, to 76,000 subscribers, with an increase of +25,000 users.
As for DeFi wallets, according to data collected across our various platforms, the increase was +263 on Ethereum, +7,446 on BSC, and +10,055 on Polygon, adding a total of +17,764 additional new holders on Bit2Me.