From the team at Bit2Me, we want to emphasize our gratitude for the support received from the user community that has followed the evolution of this project. The interest shown by users has exceeded all our expectations, and our servers were temporarily overwhelmed during the afternoon of November 1.
The purpose of this release is to resolve the main points that have caused some uncertainty among our users, as well as to provide a solution in each section. 
On November 1 at 16:57 h (UTC+1), Bit2Me enabled the possibility to buy and sell the B2M token on the Bittrex marketplace at the price set by supply and demand.
During the following minutes, volatility was high. Our team was monitoring the trades and given the sudden ups and downs of buying and selling, as the market was not yet liquid, Bit2Me stopped the possibility of buying and selling the B2M token on Bittrex through its Platform, waiting for the market to stabilize and thus protect our users from volatility.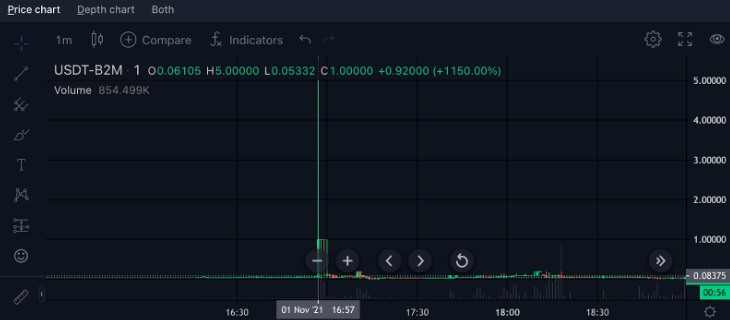 As can be seen in the chart, at the moment Bit2Me opened the possibility to buy and sell on Bittrex through its platform, at 16:57 PM, a wick of $854.499 was generated, going from a minimum price of $0.05332 to $5 at its highest price. All this information is available to the public on Bittrex. 
This was mainly caused by the normal functioning of the markets, as the Bittrex order book was filling up with the sudden influx of thousands of users. All occurring in less than 1 minute, with the price rising and falling during that time along with the maximum and minimum wick. This is a very common occurrence that happens in the first few minutes of any listing that is highly anticipated.
Disruptions in Bit2Me Wallet
Between 17:00 on November 1 and 07:00 (UTC+1) on November 2, 2021, the Bit2Me Wallet has suffered connection interruptions, making it temporarily impossible for some users to operate this service. This incident was caused by the high number of users who connected simultaneously and executed buy and sell orders at the same time.
Bit2Me's internal team has been working tirelessly throughout yesterday and today to restore the service as soon as possible.
SOLUTION: All card purchases that were not reflected in the B2M Token wallets have been credited directly to each user's euro Wallet as a protective measure, as well as to prevent the purchase from being executed at too high a price, due to the volatility of the moment.
In addition, from Bit2Me we have reviewed all operations so that they do not remain in an incorrect status. However, if you notice any incident or anything unusual in your buy or sell orders, please contact our support team at tokensupport@bit2me.com indicating your email and the screenshot in which the purchase price and the number of tokens received are correctly displayed. Our operations team will carefully analyze each issue.
All emails will be reviewed in detail and answered in a personalized way so that each user can properly understand what has happened, providing the most reasonable solution to all users who have acted correctly.
Dissonance in the Price of Buy and Sell Orders
For a few brief moments at the start of the sale on Bittrex, the price experienced sudden spikes, for example from $0.05 to $5 in less than a minute, causing some users to execute purchases and sales on Bittrex at a price that seconds later changed drastically, so the operation were executed at a different price than reflected in the trade confirmation.
This occurred because Bit2Me obtains liquidity from Bittrex for the B2M token, and minutes of high price volatility have been generated on Bittrex.
At Bit2Me we have thoroughly reviewed each transaction. We are sorry that due to yesterday's service overload some Bit2Me users could not correctly see the data of their operations. From this moment on, you should be able to correctly view each of your transactions. If this is not the case, please send us to this email tokensupport@bit2me.com the following data:
Transaction ID
Price paid
Tokens to receive
In this way, our team will be able to review each operation on a case-by-case basis.
B2M Buy and Sell Orders Executed Before 17:00 h UTC+1
At Bit2Me we have been working so that at 17:00 h (UTC+1) all Bit2Me users could buy or sell through the platform in the market. The upload of new changes to the web and the App do not happen at an exact time and that is why it was possible to buy a few minutes in advance.
As planned, Bittrex listed the B2M token on November 1. However, and due to the time change, the token was listed an hour earlier, a few minutes after 16:00 h (UTC +1) although Bit2Me gave the order for the market opening to be at 17:00 h (UTC +1). This was due to the daylight-saving time change, which took place in Spain on the night of October 30-31. Despite this, Bit2Me has kept the scheduled time.
From Bit2Me we reiterate our thanks to the community. We would like to take this opportunity to apologize to those who may have been affected by this situation.
We continue working every day to improve, taking note of our mistakes to always offer our best. 
We hope this statement will help to clear up any doubts about the incidents that have occurred. For our part, we will continue to do everything we can to ensure that B2M continues to be as successful as it has been to date, being at the top of Bittrex's exchange records on November 1.