With the end of the second four-month period of the year, and following on from our first analysis of B2M activity, our native token, we bring you a summary of the most relevant milestones and data. 
During these eight months (240 days) we have reached important agreements with market players such as Toncoin, Velca, Polycashback, Unstoppable Domain. This has allowed us to carry out airdrops, raffles and provide utilities outside the Bit2Me platform to all our B2M holders.
One of the most important milestones and challenges we have had with the B2M token was the development and launch of our 2 new utilities, thanks to the conversations and feedback from our community and our holders.
In the case of the world's largest BTC APY, 17.74% of the holders generating B2M rewards on Earn have activated the new functionality to generate rewards in BTC and + 852 new users on Bit2me Earn.
For the B2M use case in Bit2Me Pro, we have achieved that 38% of Bit2Pro users will use B2M to receive the 25% discount on commissions since its launch.
In addition, in order to improve our current Tier system, we started the construction of the "Space Center", our new Tier system, with the help of 1,000 of our holders.
And last but not least, before moving on to the B2M figures, something we are very happy about is our international expansion in Brazil and Peru.
B2M in figures
We started the second four-month period with 36,295 and at the end of the year there were more than 80,000 holders 🥳.
In addition, during the last four months, the evolution of traded volume was as follows:
May: $32.54M – May B2M volume: 1,822 B 

June: $17.22M – B2M volume June: 1.370 B

July: $10.48M – B2M volume July: 1.310 B

August: $24.09M – B2M volume August: $2.068 B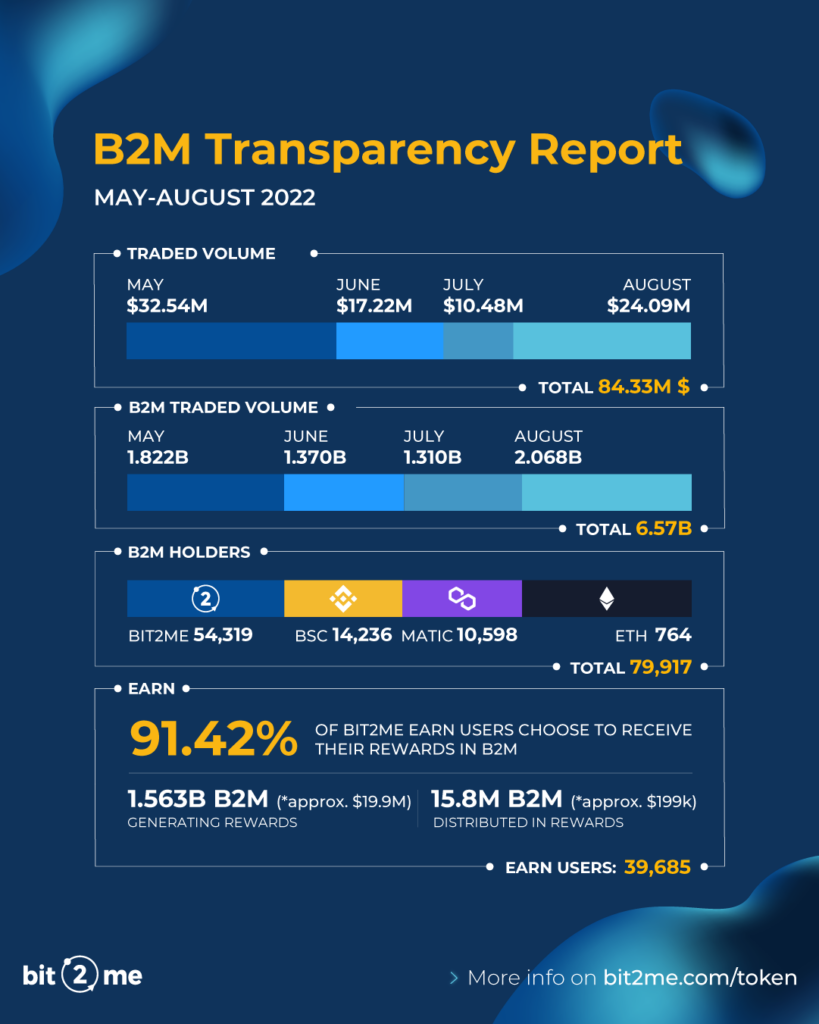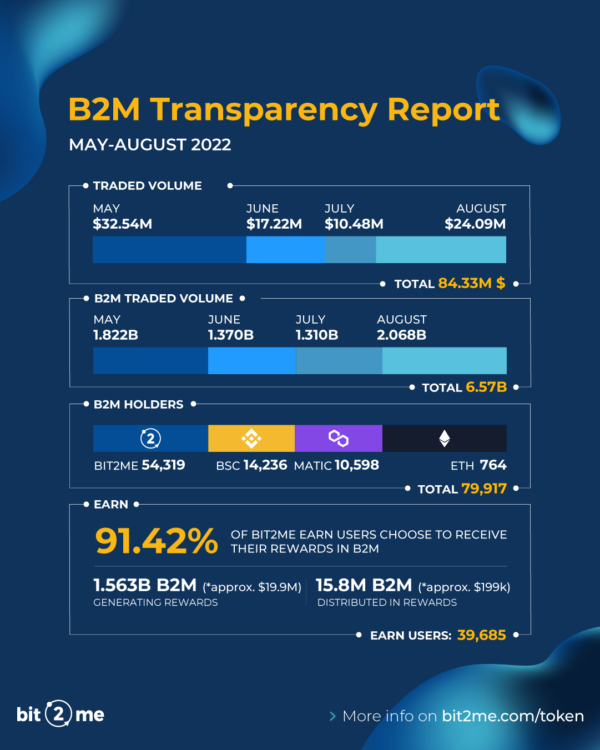 Bit2Me Earn
Earn continues to be our holders' favourite product and now even more so after the launch of our latest utility, here are the results: 
91.42% of Bit2Me Earn users choose to receive their rewards in B2M

1,563B B2M (*approx $19,9M ) of B2M generating rewards on Earn

15.8M (*approx $199K ) of B2M spread in rewards

B2M added in Earn on 1 August out of the total released: 43.66%.  

Earn users: 39.685

Top 3 cryptos on Earn: B2M, BTC, ETH
What advantages can you enjoy this quarter?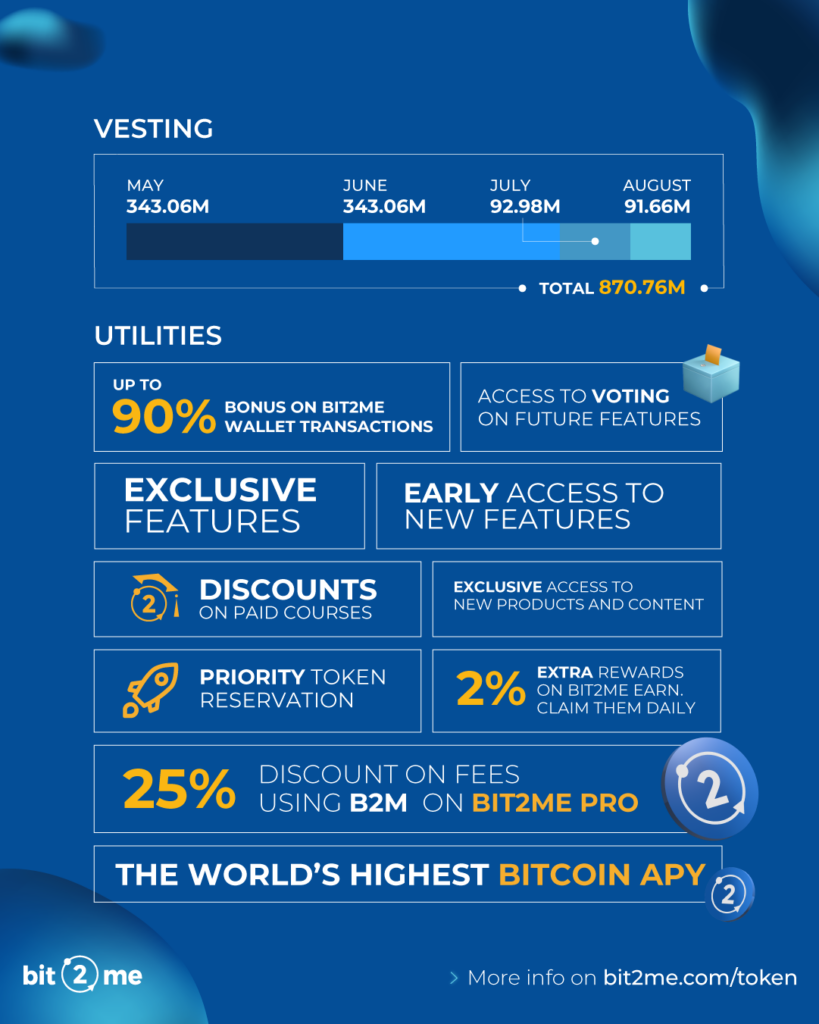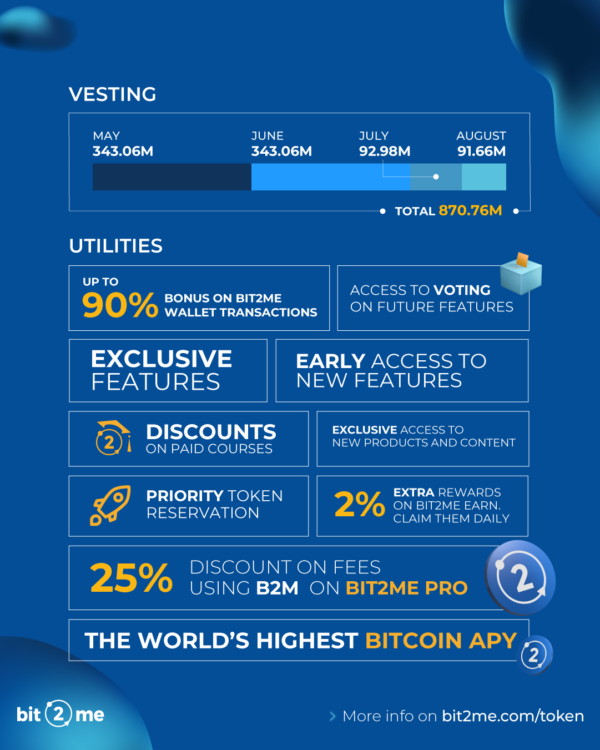 What's next for our holders
For all B2M holders, big changes in new and existing products, activation of new partnerships, and more interaction.
2022 -2023 plan preview in terms of products
Launchpad ✅

Bit2Me Loan

Bit2Me Card

Bit2Me Commerce✅

DeFi Wallet✅

New Tier system✅

Bit2Me Pro✅

BTC APY (Earn)✅
🎥 Find out the details of the August B2M news 🎥
We invite you to watch the latest B2M news format, where we have managed to unite part of the B2M team in a single video to tell you all the facts, milestones, partners and relevant token topics.
Media mentions in the second quarter of the year
Here are the most relevant mentions:
Thanks to all our community and our more than 80,000 holders! If you didn't help us, none of this would be possible.
To the moon! 🚀