Crypto API is the B2B solution created by Bit2Me for all those companies that want to offer cryptocurrency services and solutions in an easy, fast, secure and reliable way.
Bit2Me Crypto API offers API modules that are easy to install and use, so that companies or institutions that want to integrate services for buying, selling, exchanging, cryptocurrency custody services, payment gateways or staking services can do so with minimal effort on their part.
Bit2Me Crypto API offers these companies the possibility of having crypto services available in a few hours, as it is a turnkey solution, based on a frontend pre-built by us, where each client only has to adapt the style to the brand design.
What is an API and how does it work?
API is an abbreviation for Application Programming Interfaces, which in Spanish translates as application programming interface. It is a set of protocols and definitions that allow software to be integrated into applications, enabling two apps to communicate with each other.
For example, when we download a game to our mobile phone and we can connect our social network accounts, either to log in or to publish the results of our games, we do so via an API.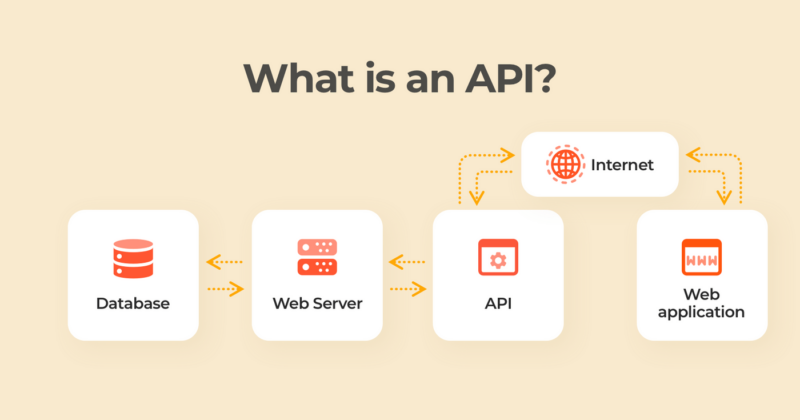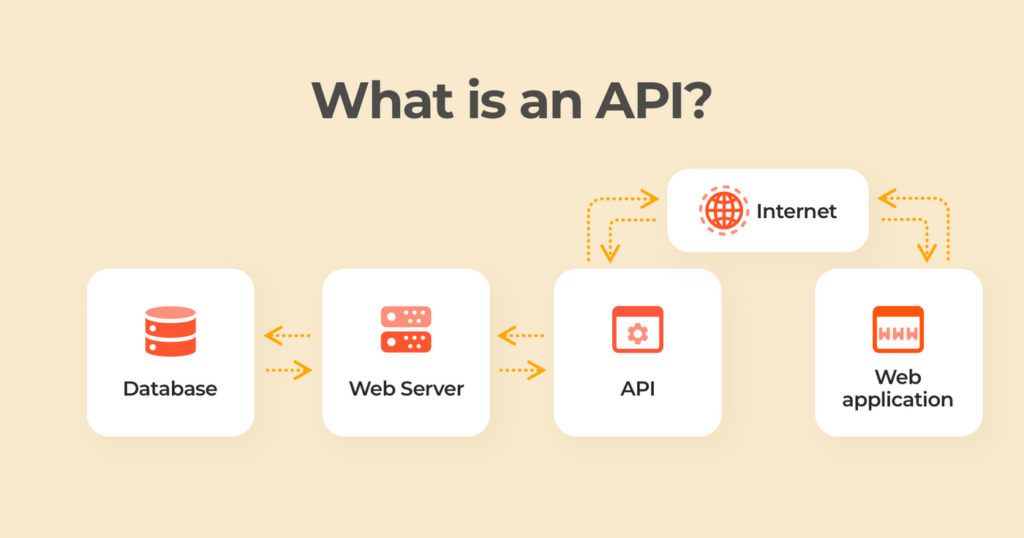 APIs can have several functions, as in the case of Crypto API, becoming toolboxes.
In short, APIs are used to implement functionalities and applications in a simple way, without having to create the code from scratch. At the same time, they allow us to take advantage of the functions of certain services to offer greater benefits to users.
What benefits does Bit2Me Crypto API bring to your company?
Variety of services
One of the advantages of Crypto API is that it allows your company to offer up to five different services:
Market: a cryptocurrency market module that offers real-time price information, as well as a historical price view, ticker visualisations and charts, both simple and advanced.
Trading: with this module your company will be able to offer customised services for buying, selling or exchanging more than 100 different cryptocurrencies (with more to be added in the future).
Custody: offers deposit, withdrawal and custody services, with the possibility of keeping custody in cold wallets, creating limit controls, frequency and access policies.
Earn: with this module you will be able to offer staking services, with all the functionalities such as limit controls, frequency and access policies, flexibility in staking conditions, as well as daily and weekly payments.
Commerce: you will be able to stand out from your competitors by offering cryptocurrency payment services worldwide, through online payment gateways or physical POS.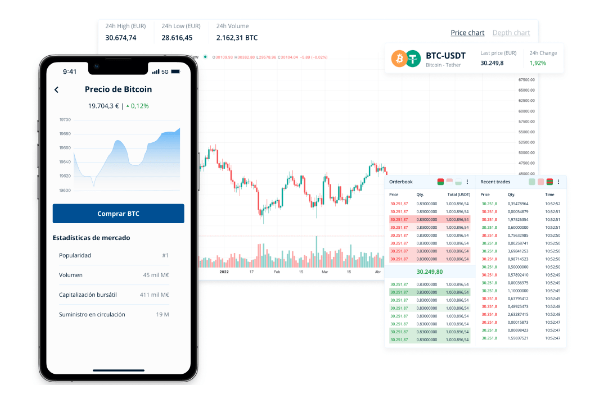 Customisation in implementation
Thanks to the different services that you can implement, in addition to the two integration models (API+toolkit and White Label), you can configure the product to your liking. In this way, you can customise Crypto API to suit your needs, offering the services that suit you best and in the way that best suits what you are looking for.
For example, the "API+toolkit" model offers you a solution based on software modules, with more than 20 prefabricated elements that you can add to build a service that meets your needs. In this case, you will need a team of developers to configure the modules and build the solution.
White Label, on the other hand, deploys the Bit2Me software and assets, so all you have to do is customise the module with your branding. In this case, we take care of everything; you have no responsibilities or obligations, and you can take advantage of Bit2Me's operational expertise and UX.
Offering cryptocurrency services in a simple way
One of the biggest challenges companies face when offering cryptocurrency services is the technical complexity of cryptocurrency-based systems. Unless you have a team with industry experience and the necessary technical know-how, implementing these blockchain-based services can be a challenge.
Thanks to Bit2Me Crypto API's turnkey approach, any company can offer cryptocurrency services. You don't even need any technical or development skills, as our solution is very easy to implement.
How is Bit2Me Crypto API implemented?
The implementation is very simple and consists of only 3 steps:
Sending the request: Once you have sent us the request, we will assign you to a technical professional who will guide you in choosing the integration model that best suits your platform.
Submitting documentation: Bit2Me is a regulated entity and, for security reasons, we need certain documentation to be able to use the service.
Implementation: Once we have verified the above steps, we will provide you with the API keys and offer you a demo session so that you can start the integration process.
In addition, the Bit2Me team will be by your side throughout the whole process. Not only will you have access to our technical team, who will support you during the implementation, and help you with a product demo, but you will also have the support of our marketing specialists who will help you prepare for the product launch with training sessions for all the teams involved.
Forget about legal and security issues
Another advantage of having Bit2Me Crypto API is that you can forget about all the legal hassles that are usually associated with cryptocurrency services. Bit2Me is a leading company in the sector and the first to be recognised by the Bank of Spain as a cryptocurrency service provider.
We are very strict in complying with the law so we will take care of all legal issues. In this sense, we comply with the Payment Services Directive (PSD2) and all other Spanish and international regulations.
In addition, we have almost a decade of experience working with cryptocurrencies, so we also have reinforced fraud detection and prevention systems. In fact, we have the support of some of the most renowned security firms such as Ledger Enterprise Solutions or Prosegur Crypto, so you can also stop worrying about security, you are in good hands.
Diversification of products and services
In 2021, data from Chainalysis, a crypto data analytics company, showed that crypto adoption skyrocketed by 880% worldwide and businesses cannot be oblivious to this paradigm shift in the world of finance.
Implementing crypto services, such as cryptocurrency payment gateways or buy and sell services, offers you the chance to become an early adopter and differentiate yourself from your competitors.
Other large companies and institutions such as Save The Children, Walmart, Microsoft, Starbucks, Destinia, Shopify or PayPal, already offer services of this type, making a difference with their competitors.
Do you want to know more about how you can start offering cryptocurrency products and services in a simple, fast and secure way? Contact us and we will explain you the whole process, we will offer you advice and we will be with you throughout the whole process.