On September 21, we closed the third phase of our ICO, where we managed to capture a total of 20 million euros through B2M token. As we announced, our token offers several advantages and discounts for users. And we've already fired the starting gun! 🎉
DISCOUNTS WITH B2M TOKEN
One of the first advantages that B2M token holders can take advantage of are the discounts 💰️ of up to 90%, which have been active since October 1. How do they work? It's simple. They are applied automatically on fees for deposits, exchanges, and purchases with a card or Tikebit in each user's wallet.
👀 Look closely at the following chart where we break it down: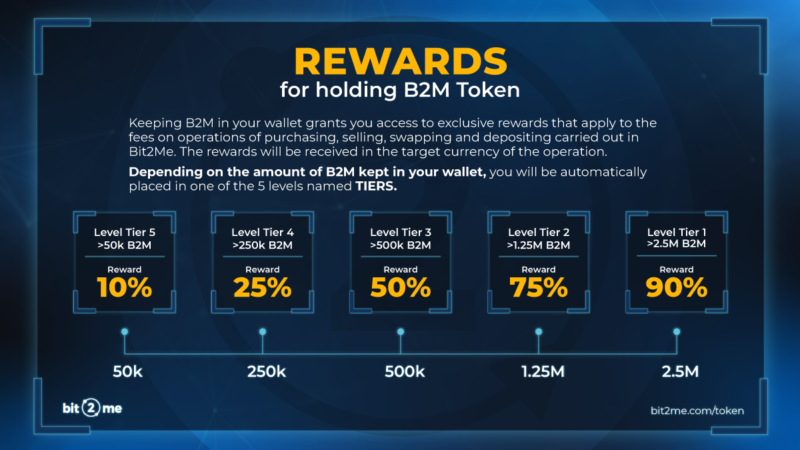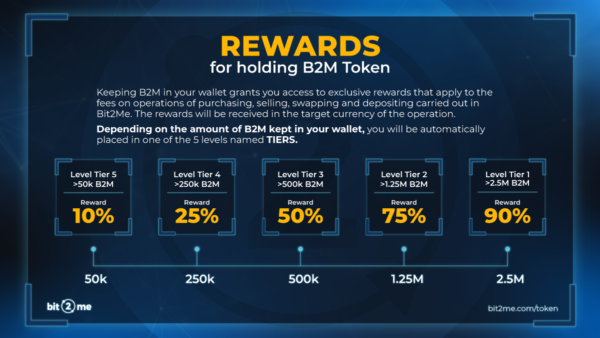 As you can see, the discounts have been divided into different Tier Levels. This concept refers to the automatic level where each user is located, depending on the amount of tokens they have. So:
Level TIER 1 (>2.5M B2M)   ➫  90% reward

Level TIER 2 (>1.25M B2M) ➫  75% reward

Level TIER 3 (>500K B2M)  ➫  50% reward

Level TIER 4 (>250K B2M)  ➫  25% reward

Level TIER 5 (>50K B2M)   ➫  10% reward
The discounts for each TIER are calculated on the fee applied in each operation and are received in the currency of destination of the operation.
💡 For example, if you hold 500,000 B2M tokens or more, you will automatically be placed in TIER 3.

In this TIER you will get a 50% bonus applied on the commissions of the purchase, sale, exchange and deposit operations carried out in Bit2Me. You will receive the corresponding bonus in the target currency of the transaction.